Department of Classics / Research and Resources / Archaeological Fieldwork / SHARP
SHARP
The Saronic Harbors Archaeological Research Project.
SHARP is a multi-disciplinary project to explore human interactions in a "coastscape" environment. We are investigating the dynamics of competition among neighboring socio-political entities in the Saronic Gulf region of mainland Greece during the Late Bronze Age. One of our main goals is to investigate the process of competitive expansion by archaic states into contested peripheries, within a framework of peer-polity interaction among secondary states developing in the same cultural region. Specifically, we examine the competitive interaction that occurred during the Greek Late Bronze Age (or Late Helladic Period, ca. 1700-1100 BC), when the emerging palace-based state of Mycenae expanded into the Saronic Gulf region, the long-est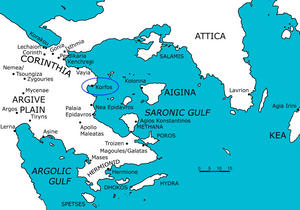 ablished sphere of influence of the older state of Kolonna on the Saronic island of Aigina. Our initial phase of fieldwork has concentrated on documenting the Mycenaean walled harbor town at Kalamianos, near the modern village of Korphos, and conducting an intensive survey in the surrounding region, along with geological and ethnographic investigations. SHARP, co-directed by Daniel J. Pullen of The Florida State University, and Thomas F. Tartaron of The University of Pennsylvania, operates under the auspices of the American School of Classical Studies at Athens, with a permit granted by the Greek Ministry of Culture and the support of the ΛΖ' Ephorate of Prehistoric and Classical Antiquities for the Corinthia and the 25th Byzantine Ephorate of Byzantine Antiquities. The three-year initial phase of fieldwork (2007-2009) is now followed by a period of study and publication, in anticipation of a second phase of future fieldwork.
(The SHARP website is in the process of being updated for Spring 2014.)