---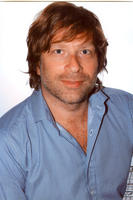 Research and Teaching Specializations
Roman Visual Culture
The Roman Provinces
The Archaeology of Late Antiquity
Background
Andrea U. De Giorgi is an assistant professor in the department of Classics. He specializes in Roman archaeology and in the visual culture of the Roman Empire from the Republic to Late Antiquity, with particular emphasis on the eastern provinces. He received his laureain classical philology from the Università di Torino and earned his Ph.D. at Bryn Mawr; his dissertation study on the landscape of Antioch on the Orontes will soon appear as a monograph. De Giorgi is an experienced field archaeologist who, in addition to work in Italy and the Levant has worked in Turkey on Graeco-Roman urbanism since the beginning of his doctoral dissertation.  He has been awarded research grants by the Thyssen Stiftung, the Kress Foundation, DAI Berlin and the Whiting Foundation, among others.
His work outside the university includes the study and publication of the 1930's Antioch collections at the Princeton Museum of Art.
Publications and Lectures
Books
Ancient Antioch: from the Seleucid Era to the Islamic Conquest. Cambridge University Press, 2015.
Articles
"The Princeton Excavations in Antakya, 1932-1940," JRA 28 (2015): 873-876.
"Scavi di Cosa: la Stagione 2014," Notiziario Soprintendenza per i Beni Archeologici della Toscana. 10 (2015).
"Globalization and Local Identities: Stories from Syria," in J. Yoo-A. Zerbini (eds.), Migration, Diaspora and Identity in the Near East from Antiquity to the Middle Ages. London (2015)
"The View from Daphne" in J. Poblome (ed.), The Space Between: Current Investigations into Roman Suburbia, JRA Suppl. (2015).
"The Cosa Excavations: Season 2013," with R. T. Scott et al. Orizzonti, 16 (2014): 11-22.
"Domestic Architecture in Roman Syria," in C. Hope-A. Di Castro (ed.), Housing and Habitat in Antiquity, Proceedings of the International Conference held at Monash Summer Center, Babesch Suppl. (2015).
"Antioch during Late Antiquity," with G. Brands, in L. Rutgers, O.Brant, and J. Magness (eds.) The Cambridge Archaeology of Late Antiquity, Cambridge (2015). 
"Scavi a Cosa: il complesso termale." Notiziario Soprintendenza per i Beni Archeologici della Toscana. 9 (2014): 529-532.
"Between continuity and change: Northern Pisidia through Classical and Late Antiquity," in IstMitt, 64 (2014): 55-71.
"Antioch on the Orontes," in L. M. White (ed.) The Oxford Encyclopedia of the Bible and Archaeology, Oxford (2013): 28-36.
"Isparta Arkeolojik Surveyi 2010 Yılı Çalışmaları: Konane (Conana)," with B. Hürmüzlü et al. Araştırma Sonuçları Toplantısı, 29 (2012): 1-10.
Lectures
Museo di Antichità, Torino, Italy (2015): Comunità Siriane nell'Italia Settentrionale del Tardo Impero.
Freie Universität, Berlin, Germany (2015): A Missed Opportunity? The 1930s American Excavations of Antioch-on-the-Orontes.
University of Pennsylvania, AAMW, (2015): Antioch: City of Light?
Archaeological Institute of America, New Orleans (2015): New Excavations at Cosa.
Bryn Mawr College (2014): The New Cosa Excavations.
---