M. Lynette Thompson Library
---
M. Lynette Thompson Library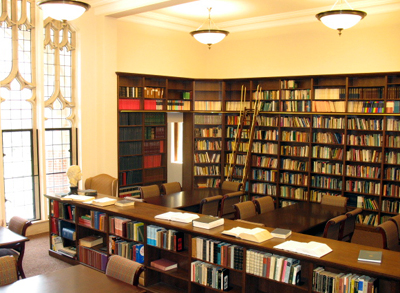 The M. Lynette Thompson Library
The History of the Library
The original core of the books in the library was assembled by Dr. Lynette Thompson, when she was chair of the Classics Department for 19 years (1961-1980). Dr. Thompson taught at Florida State College for Women/Florida State University from 1942 until 1994, holding the longest tenure of any faculty member at FSU. She specialized in the poetry of Lucan, and was known in the State of Florida and around the U.S. for promoting the Classics. Dr. Thompson passed on in 2003. The library had been named in her honor in 1996 and she had the pleasure of seeing it established in its current home in Dodd Hall.
The Leon Golden Fund for Library Acquisition
In December 2005, the Department of Classics received a generous gift from Leon Golden, Professor Emeritus of Humanities and Classics at FSU. Professor Golden's donation established a fund to be used by the department for acquiring books for the Thompson Library. The interest that accrues from the fund's principal constitutes the spendable income to be used for purchasing new books. Naturally this amount varies from year to year. At the start of each new academic year it will be the responsibility of the Thompson Library Committee to inform the faculty of the amount of spendable money in the fund.
The Department of Classics is honored to be the recipient of so generous a gift, which is a testament to Professor Golden's unwavering commitment to the study of the ancient world at FSU. Professor Golden's generosity has enabled us proudly to uphold his steadfast belief that great universities must have great libraries.
For more information on the library's operations, click here.