---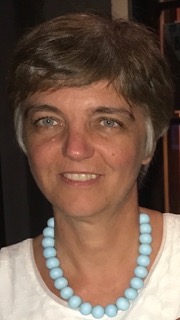 Research and Teaching Specializations
Ancient Philosophy with focus on Platonism and Neoplatonism
The dialogue of ancient philosophy with areas "outside of its box:" literary genre, poetry, myth, religion, medicine, Eastern thought, and Sufism
Intellectual History
Ancient Numerology
Ancient Medicine
Ancient Healing Cults and Centers
Background
Svetla Slaveva-Griffin (Ph.D., Iowa) is graduate of the National School for Ancient Languages and Civilizations, Sofia and has a degree in Classical Philology from the University of Sofia, Bulgaria before she finished her Ph.D. at the University of Iowa. Her main research specialization is the history of Platonism with particular interests in the dialogue between literary form and philosophical content, the relationship of ancient philosophy with disciplines which are "outside of its box" (poetry, myth, religion, and medicine), Neoplatonism and its interaction with Eastern thought, ancient medicine, the development of the genre of medical philosophy in late antiquity and early middle ages.
She is recipient of a travel grant from the Wellcome Trust for the History of Medicine, University College, London, COFRS, Planning Grant, and FYAP from the FSU Council on Research and Creativity.
She has been nominated multiple times for university teaching and advising awards at FSU. She is recipient of FSU University Teaching Award in 2006 and recipient of University of Iowa Outstanding Graduate Student Teaching Award in 1996.
Research Projects in Progress
Pseudo-Galenic De Spermate
Plato's Hippocrates and Galen's Plato: Neoplatonism and Medicine in Late Antiquity
Fire and Immortality
Number and Metaphysics in Late Antiquity
Publications and Lectures
Books
Plotinus on Number, Oxford University Press (2009) [available through OUP online here]
Articles
"Medicine in the Life and Works of Plotinus," Proceedings of the Langford Latin Seminar 14 (2010) 93-117
"Contemplative Ascent in Plotinus and Rūmī," in Philosophy and Religion in Late Antiquity, K. Corrigan, ed., Akademie Verlag (forthcoming 2010)
"Between the Two Realms: Plotinus' Pure Soul" in Greek Religion: Philosophy and Salvation, V. Adluri, ed., in the series Religionsgeschichtliche Versuche und Vorarbeiten, de Gruyter (forthcoming 2010)
"Neoplatonic Views on Madness and Madness" in The Concept of Madness from Homer to Byzantium: History and Aspects, H. Perdicoyianni, ed., Peter Lang (forthcoming 2011)
"Tracing the Untraceable: Plotinian Motifs in the Pseudo-Galenic De Spermate" in Stromata. Neoplatonic Questions, José M. Zamora, ed., Hakkert Publications
"Unity of Thought and Writing: Enn. 6.6 and Porphyry's Arrangement of the Enneads," CQ 58.1 (2008) 277-285
"Philosophy and Myth: Review Of Recent Scholarship," in Philosophy and the Longing for Myth, H. Tarrant and R. Benitez, eds., in The European Legacy: Toward New Paradigms, vol. 12.2 (2007) 247-250
"'A Feast of Speeches:' Form and Content in Plato's Timaeus,"Hermes 133.3 (2005) 312-327
Lectures
"Medical Motifs in the Neoplatonic Conception of Madness," ISNS Annual Meeting, Atlanta, 2011
"Neoplatonic Views on Madness and Madness," CAMWS Annual Meeting, Grand Rapids, 2011
"Plato, Plotinus, and the Chaldean Oracles on Pure Soul," Neoplatonism and the East, Haifa, 2011
"Plotinian Motifs in the Pseudo-Galenic De Spermate," ISNS Annual Meeting, Madrid, June 2010
"The Pseudo-Galenic De Spermate," ISNS Annual Meeting, Krakow, Poland, June 2009
"Medical References in Enn. III.6.2," Colloquium Plotinianum, Istituto di Svizzero, Rome, May 2009
"The Puzzle of the Pseudo-Galenic De Spermate," talk delivered at the seminar on the second century B.C.E. philosophy, University of Cambridge, October 2008
"Shading off the Body: Contemplative Ascent in Plotinus and Rūmī," Institute for the History of Philosophy, Emory University, June 2008
"Bridging the Cultural Gap in Lecture Classes," CAMWS Annual Meeting, Tucson, AZ, 2008
---
title-inside title-centered
2