Welcome to the new FSU Department of Classics website! Please excuse any broken links as we make the transition.
Kudos to grads presenting at CAMWS-SS!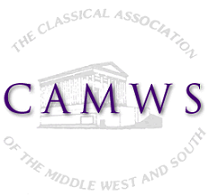 Kudos to the list of graduate students below who will be delivering talks at the upcoming southern section meeting of CAMWS, which will take place in Greensboro, NC in early November. Great job, everyone!
Cole Bennett: "Plato's Historical Myths and Athenian Social Memory" 
Isaac Lang: "Chaste Penelope and Glassy Circe: Epic Gender Allegory in Horace Odes 1.17"
Luke Mahler: "The Rise of the Warlord: Crisis in Hellenic Hegemony"
Halle Martin: "Druidism in the Roman Empire: A Constructed Mystery Cult"
Luther Riedel: "Strange, Ancient, Esoteric, and Indeterminate, but True: Plato and Egyptian Mythology"
Daniel Rose: "Plato and the Reception of the Persian Wars in The Myth of Atlantis"
Cheyenne Strickland: "Faces from the Fayum: Cultural Bricolage in the Faiyum Portraits"
Caleb Wittington: "The Elder Rome: The Topography of Places and Power during the Amal Administration"