Welcome to the new FSU Department of Classics website! Please excuse any broken links as we make the transition.
Kudos to Melissa Ludke, Recipient of the ANS Fellowship!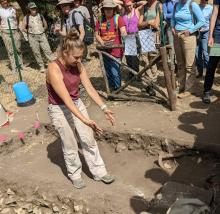 Congratulations to Melissa Ludke, the first recipient of the Chairman's Fellowships for Numismatic Research from the American Numismatic Society to fund her summer research project, "Cosa and Socio-Economic Interactions among Middle Republican Cities in Central and South Etruria."

Please join us in congratulating Melissa!