Svetla Slaveva-Griffin
Associate Professor of Classics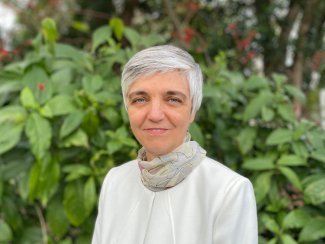 Contact Information
312 Dodd Hall
Spring 2020 Term
Current Courses
GRE 1121: Beginning Greek II
CLA 6930: Neoplatonism
Office Hours
Tuesdays 11:30–1:30 pm
By Appointment
Professor Slaveva-Griffin is a graduate (with Gold Medal) of the National School for Ancient Languages and Civilizations, Sofia, Bulgaria (class of 1986). She received a B.A. in Classical Philology from the University of Sofia, Bulgaria (1992) and a Ph.D. from the University of Iowa (2000). Her main research interests are in philosophy, science, and medicine in late antiquity. Her first book, Plotinus on Number (Oxford University Press, 2009) argues that Plotinus adapts Plato's and the Neopythagoreans' cosmology to place number in the foundation of the intelligible realm and in the composition of the universe. Her secondary research interests include the relationship between philosophy and religion in late antiquity, education in late antiquity, and the ancient novel. She has co-edited, with Pauliina Remes, The Routledge Companion to Neoplatonism (Routledge, 2014), which was recognized as Routledge's Outstanding Academic Title in Philosophy for 2015 and Choice's Essential Academic Title for 2015. Her co-edited volume, with Ilaria L.E. Ramelli, Lovers of the Soul, Lovers of the Body: Philosophical and Religious Perspectives in Late Antiquity is forthcoming (Harvard University Press, Center for Hellenic Studies, Hellenic Series, 2020). She is currently working on a project which examines the Neoplatonists' understanding of medicine as a field of knowledge about the body and an 'applied' branch of natural philosophy. Her other major project includes translation, with introduction and commentary, of Plotinus' Ennead VI.6.
She is a recipient of, among others, an Alexander von Humboldt Fellowship for Experienced Researchers (2013–2014), an FSU Developing Scholar Award (2012), and a research grant from the Wellcome Trust Centre for the History of Medicine, University College London (2008). She has won several awards, including The Society for Classical Studies Excellence in the Teaching of Classics at the College Level (2020) and an FSU Undergraduate Teaching Award (2006).
Prospective Students: Prof. Slaveva-Griffin is currently accepting students.
---
Research Interests
Ancient Philosophy, Science, and Medicine
Education
Religion
---