Francis Cairns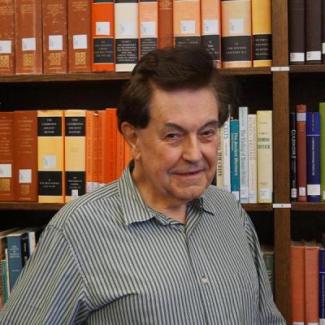 Contact Information
205T Dodd Hall
ON SABBATICAL
Professor Cairns has published widely in books and articles on his fields of research interest: on Classical Greek Poetry from Homer to the Hellenistic age, on Classical Latin poetry from early Roman epigram to Flavian epic, on 12th century Medieval Latin poetry and prose, on 15th and 16th century Renaissance Latin poetry and prose, and on Euboean epigraphy. His current major project is a monograph to be entitled: Kletikon: The Ancient Greek Poetry of Summons and Invitation. His educational qualifications are M.A. in Classics (Glasgow), B.A., M.A. in Lit. Hum. (Balliol College, Oxford), Ph.D. (Liverpool) and D.Litt. (Edinburgh). Before moving to Florida State University, he taught at the Universities of Edinburgh, Liverpool, and Leeds.
He is the author of: Generic Composition in Greek and Roman Poetry (Edinburgh University Press 1972); Tibullus: A Hellenistic Poet at Rome (Cambridge University Press 1979); Virgil's Augustan Epic (Cambridge University Press 1989); Sextus Propertius: The Augustan Elegist (Cambridge University Press 2006); Papers on Roman Elegy 1969-2003; (Patròn Bologna 2007); Roman Lyric: Collected Papers on Catullus and Horace (De Gruyter Berlin 2012); and Hellenistic Epigram: Contexts of Exploration (Cambridge University Press 2016).
Prospective Students: Prof. Cairns is currently accepting students.
---
Research Interests
Greek and Roman Poetry
Medieval and Renaissance Latin
Ancient Euboea
---