Department of Classics
The Classics Department at Florida State University is a leading center of Classical Studies, with nationally and internationally distinguished faculty for both teaching and research. It provides undergraduate students the intimacy of a small liberal arts college, while providing graduate students the resources and experience of a large Research I university. With approximately 80 majors and 30-40 graduate students, the department is among the largest Classical Studies programs in the public university system, and it is designed to prepare its students for careers in the 21st century, with FSU Classics alumni currently holding positions in diverse fields including university academia, museums, professional archaeology, secondary education, and law.

 

 

 

 

 

 

 

 

course information

Spring 2022

Fall 2021

 

 

 

 

 

 

 

​

Click on this secure link and choose "Classics."
Many thanks for your support!

 

 

 

 

 

 

 

 
title-inside title-centered
2
NEWS FROM CLASSICS DEPARTMENT
Carolin "Katie" Fine defended her dissertation on the Neolithic rhyton on March 18, 2021.                                                                                                                                                                                                                                                                                                                                   
Professor Andrea DeGiorgi has been awarded a grant from the Shelby White-Leon Levy Program for Archaeological Publications (Harvard University) for the publication of the archaeology of Daphne, near Ancient Antioch in southeastern Turkey.
PIE's (Program for Instructional Excellence) TA spotlight this week is Atakan Atabas, M.A.
DEPARTMENTAL EVENTS
Description
An informational meeting will be held on Thursday, December 2nd at 6:30 PM to discuss the Bucher-Lowenstein Museum Internships to Cetamura (summer, 2022). The meeting will be held over Zoom. Please contact Dr. de Grummond (ndegrummond@fsu.edu) for accompanying link.
Description
COSA Archaeological Field School 2022 Informational Meeting. Come and hear more about the opportunities available through the COSA Archaeological Project Field School!
Zoom Link: https://fsu.zoom.us/j/96100851459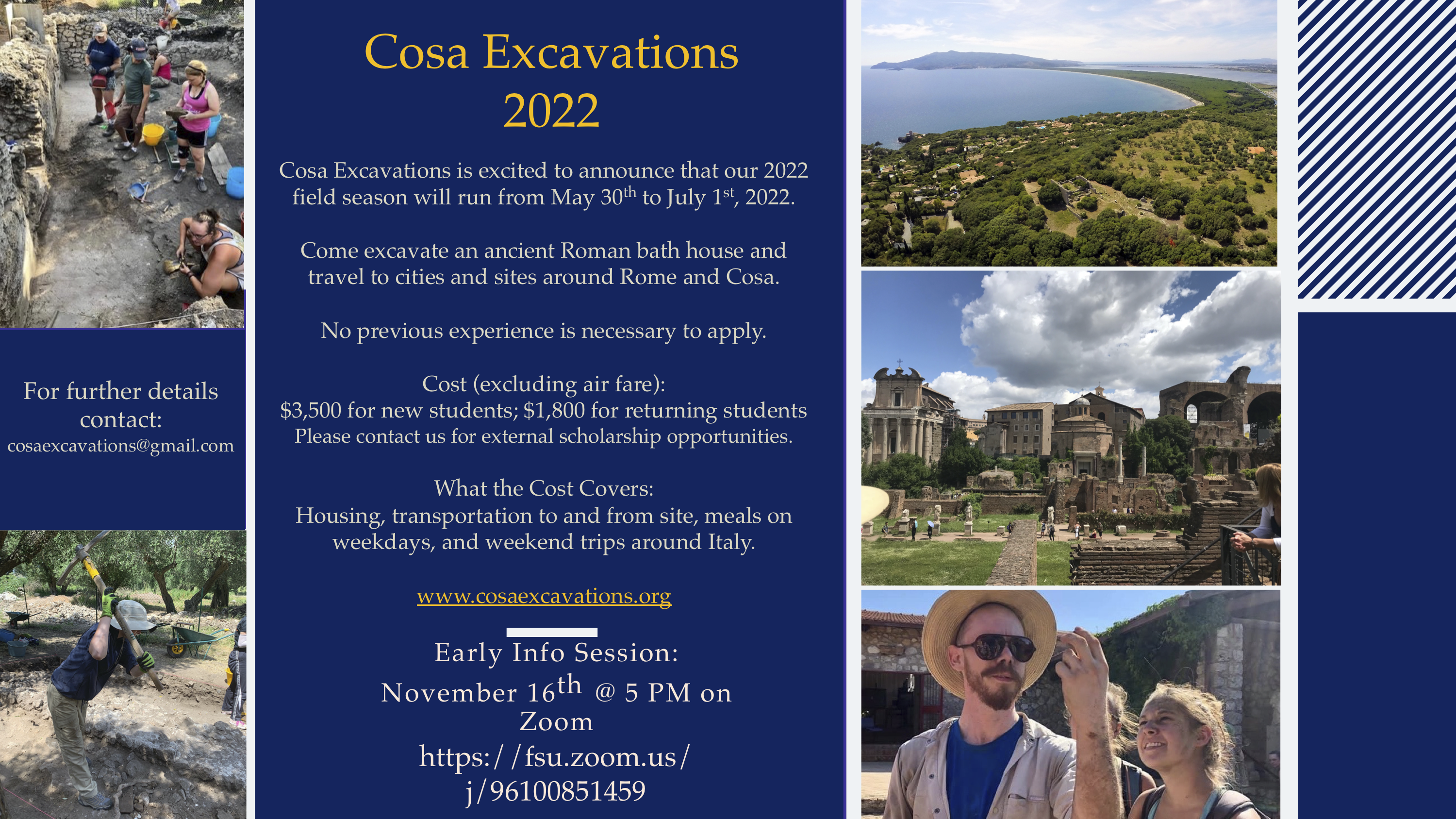 Description
The Department of Classics at FSU invites you to attend the AIA Tallahassee Chapter lecture, "Royal Purple and Indigo: The Hidden Labor Behind Luxurious Dyes," by Sarah E. Bond of the University of Iowa. The lecture begins at 6:00 PM EST on Tuesday, October 19th.
Zoom Link: https://fsu.zoom.us/j/93129018539